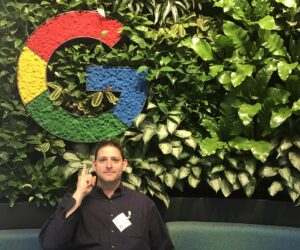 A little bit of Info about my credentials- Owner of Armani Entertainment since 2018 – Operating as a Dj and Photo Booth Company located in Warrington, PA- Primary Job however has been in online marketing since 1998- Currently the President of an Advertising Agency specializing in Google Advertising Art is also the Marketing Director for Max Design and also Capturebook App.  Both will be at PBX and MEX this year.
In today's episode, Art shares his career journey in marketing and the strategies he has been using to optimise his website to rank number one on google. As a key speaker at the PBX seminar, he will also provide highlights of the topic he will be handling in the seminar: The three things you can do to improve your user experience and help your website rank better without hiring an agency.
Listen to his insightful tips!
Tune in!
Conversation Highlights;
[00:58] About the upcoming PBX conference
[01:59] The importance of the PBX and seminar like this
[05:01] Art background in marketing and what he wants you to take from the seminar
[08:03] The right timing to hire an agency to optimise your website
[08:45] The three things you can do to rank your website
[08:47] How to optimise your homepage title tags to rank
[15:03] Using google trends for keyword research
[17:54] A highlight of what Art will speak about on Blogging and YouTube content 
[21:02] How to send local signals to the search engine
[27:57] Episode wrap up and calls to action
Notable Quotes
[06:50] Agencies are not bad, but there are a lot of low hanging fruits which you're going to pay for that you can do yourself
[08:47] The title tag of your website is the most important thing to tackle first in SEO
[09:06] Think of your website as a book, so if anyone is looking for any type of subject, the first thing to look at will be the title
[12:29] The first thing that Google looks at is your title tag
[16:06] You have to put town identifiers; people are looking for local photo booths near them
[17:06] It takes time, do one thing at a time, and over time, you will have a good website that is ranking
[21:17] There is a psychological thing behind money; people always want to know what it cost
Let's Connect!