This episode of Wedding Talk Radio features Mark Scharenbroich, an award-winning writer, film-maker, and a motivational keynote speaker. He believes that connection is everything and that it fuels one's passion for success despite the COVID-19 pandemic. He highlights that making connections is essential in the wedding industry, and that he is the man behind Nice Bike
Hall of Fame motivational speaker, Emmy award winner, award winning author, PLUS: Ordained minister (Online…) with seven weddings under my belt. 6 out of 7 still married Mark Scharenbroich will be joining us next Tuesday at 1:30 pm pst.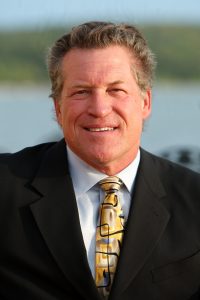 Mix thousands and thousands of black leather, bandana-wearing, tattoo
bearing Harley-Davidson riders with a 100th Anniversary and one beige
rental car and the end result will be the perfect metaphor for connecting with others: "Nice Bike."
Nice Bike acts as a powerful catalyst to help build stronger, more unified
teams. The message inspires audience members to be more engaged and
passionate about connecting with others.
Join Emmy award-winning speaker, Mark Scharenbroich as he takes you for a fun ride on how to be effective at making meaningful connections in both your professional and personal life. His Nice Bike principle is supported by three strong actions: Acknowledge, honor and connect.
Mark has spent his career working in both industry and education
discovering how some of the best organizations and team leaders build a
culture that encourages people to perform at a higher level through greater
engagement.
Part motivational speaker, part thought-provoker and pure comedic
entertainer – Mark Scharenbroich will inspire, teach and engage you with
Nice Bike.
Credentials: Award-Winning Author, Emmy Award® winner for an ABC
TV special, National Speakers Association Hall of Fame Inductee, Golden
Apple and Silver Screen Film award for his movie, The Greatest Days of your Life…(so far), International film festival award winner.
www.NiceBike.com Twitter: NiceBikeMark
Scharenbroich & Associates
2622 West Lake Street
Suite #415
Minneapolis, Minnesota 55416
Phone: (612) 802-4051
Web: Send us a secure email
Show Notes
Conversation Highlights
[01:37] Kyle and Mark talk about the adjustments during the COVID-19 lockdown
[04:45] Mark shares his place as a great wedding site 
[06:12] How do they stay connected this time of the pandemic
[07:44] Mark narrates his best memories with his dad and their trip to the Vietnam war memorial wall.
[14:00] How Nice Bike came about?
[19:05] The importance of connecting families together 
[19:20] How Mark met his wife
[20:00] Dave recalls his experiences with his father and expresses how important connection with people is.
[25:41] Mark and Dave shares a funny wedding experience 
[27:09] Barbara Jordan's quote:  It's more important to be interested than interesting.
[33:25] Every wedding is different and unique.
[36:00] Mark mentions that he does use PowerPoint
[41:50] How did Mark start offering welcome drinks during weddings
[42:52] Mark's plan in going back to California
[48:05] Kyle shares his unique strategy, the Marriage Dance

The Remarkable Quotes from Mark
[04:15] "It's learning how to deal with the situation…move forward and in the meantime, do something that's meaningful…"
[04:15] "… We now realize how important these human connections are…"
[14:13] "Nice Bike is a metaphor about how we are with others by acknowledging and honoring and connecting with them."
[22:09] Confidence without compassion is arrogance and confidence with compassion is a connection."