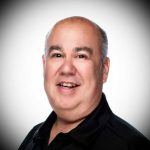 Our featured speaker will be Jim Luff. Jim is the marketing manager for Chosen Payments. Jim wears a few different hats. Jim began his career in the industry as a private chauffeur in 1990. In 1993 he found a permanent home at The Li
mousine Scene as the general manager, later becoming a partner. Jim retired from the Limousine Scene and later took the position as the Marketing Manager for Chosen Payments. Jim is also a Contributing Editor for LCT Magazine – Luxury Coach & Transportation.
Jim is a local through and through, working with many local
chairtys in Bakersfield, CA.

Including Vice President at League of Dreams
President of CARE – Children's' Advocates Resource Endowment
Involved with Kern Partnership for Children and Families
Ambassador Committee Chair at Greater Bakersfield Chamber of Commerce